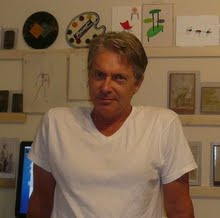 Jim Linderman is a writer, art historian, collector and publisher. He maintains a network of sites on art, photography and culture. All share the common thread of authenticity. EACH of the numerous sites listed on the home page are updated frequently, if not daily. Follow each to see current projects.

THE DAILY BLOG HERE


Testimonials

"...disclosing an underground history of American popular culture one oddball tale at a time"
John Strausbaugh in The New York Times


"...one of the blog writers to watch for"
ARTSlant

"...collected over the years by Jim Linderman, a character who seems the perfect subject for a Harvey Pekar comic. Linderman treats collecting like a calling, and his finds have a resulting air of authority, stunning in their capture of bygone picturesque moments."
Derek Taylor Dusted

"...Jim Linderman's blog Vintage Sleaze – a treasure chest (sorry) of adult gags, disreputable imagery and sordid stories featuring some of America's best-loved sexy artists. Vintage Sleaze is "the true and untold history of smut in America," Linderman reveals in the site's opening statement – now if that's a line that doesn't tickle your fancy, I don't know what will."
Alex Moshakis It's Nice That
"The pictures, discarded artifacts of ecstatic Americana, come from the stash of Jim Linderman, who in his introduction recalls advice he's plainly taken to heart: "Collect the heck" out of whatever you find interesting."
Drew Jubera Paste Magazine

"His interest in art is rivaled only by his interest in music, and one expression informs the other. He pursues objects with thoroughness and an innate sense of curiosity..."
Tanya Heinrich Folk Art Magazine

"...he's one of the world's greatest pickers."
Brian Wallis in The New York Times

"Documenting--one clipping at a time--the scrapbook of a leg and garter aficionado that was dumpster-dived in Virginia in the 60s"
William Smith Hang Fire Books

"
Linderman has a knack for discovering untold stories and introducing them to a wider audience"
Joey Lin Anonymous Works

"Jim Linderman...makes us all look a little puny"
Could it be Madness-this?

"...insatiable collector of ephemera and ringleader behind an incredible circus of blogs — including the treasure trove dull tool dim bulb"
The Cynephile
"Yo no sé ustedes pero creo que es uno de los mejores sitios que he visitado en mucho tiemp"
Color Me in Blog

"...there's something beyond the endless photos and postcards and weird propaganda from another time that he lovingly documents - I think it's the collection as a whole, the portrait of a person fascinated with culture and communication. I have met people like this before, and in reading Dull Tool Dim Bulb I feel I have been lucky enough to meet one more. This site is a goldmine in terms of links..."
The Hyggelic Life October 2009

"Linderman is always on the lookout for the new and exciting"
Chuck and Jan Rosenak Contemporary American Folk Art

"...an amazing collection..."
Revel in New York October 2009

"Jim Linderman has a nice little colllection of interesting books and blogs...But every so often he just loses it."
American Digest March 2010

"FOR MOST OF HIS LIFE, COLLECTOR JIM LINDERMAN has searched high and low for authentic things--unique and special objects that define the artistic culture of the American experience. From folk art to popular culture, from pulp fiction to Delta Blues-- Jim is a walking authority on so many things American they are too numerous to mention. One thing is certain-- his collecting interests are for things that have fallen through the cracks, those things lost and forgotten--the box of material under the table at the flea market booth. If it wasn't for dedicated collectors like Jim Linderman-- so many important objects about our culture would have surely been lost to time and indifference."

"Jim Linderman maintains a most interesting blog about the most amazing things from his collection—a site he calls "Dull Tool Dim Bulb," the only curse words his father ever uttered. I love it, and read it everyday."
"...an excellent writer and I devour your blog daily. I am impressed at your deep knowledge of things within your niche..."
John Foster Accidental Mysteries

"I am grateful to Jim Linderman for first alerting me to the existence of the 1930s Spiritualist hymn "Jesus is My Air-o-plane."
William Fagaly New Orleans Museum of Art, Author Tools of her Ministry: The art of Sister Gertrude Morgan

"Linderman describes a long gone world...(he) claims not be be a writer but he is most certainly an excellent researcher..."
BOOKSTEVE 2011
Download eBooks by Jim Linderman HERE $5.99 Each